(Series v.2) Limited time product availability. Version.2 - the black edition is a big banner. We spent years figuring out our compounds and pads, but after a rigorous vinyl banner quality check we finally got the print quality we desired. This was a common request we heard from customers, so here it is!


Specifications:
72 x 30" Premium Indoor Vinyl Banner
10 mounting holes
Comes with no mounting hardware standard. If you want we can include (4) tapcon hardware/anchors and (4) fender washers for an additional $5. Tapcon hardware can be used into wood, plaster, drywall (no stud required), brick and concrete.
Videos
What should do if I see haze or micromarring after using the 2 step system.
Micromarring is common on the initial step. Repolish the area using the same combination to ensure that the polish was cycled and completely broken down, or the surface itself polished long enough. Typically, if you have any issues with the red pad and polish combination finishing, the firmer pad will normally resolve these issues on your specific paint work

What do I use for one step polishing?
We recommend our Yellow medium polishing pad paired with either out OBERK cut or OBERK polish depending on paint.  Typically, we recommend harder paints – Oberk Cut with Yellow pad. Softer Paints – Oberk Polish with Yellow pad.

Note – A simple test spot with each combination above should easily determine which is better for your vehicle.
Customer Reviews
12/03/2020
Kodie H.

United States
Da Bomb Banner v2
Great Item, great company backed by great people and even better products. Oberk is where it's at!
02/24/2021
Oberk Car Care
Boom city on the Kodie Camp of Coatings. No idea what we just said.
11/23/2020
Juan C.

United States
Awesome
Love the banner thank you!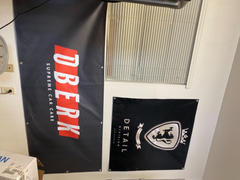 09/10/2019
Reuben R.

United States
Banner
Great quality! Awesome