Oberk Supreme Cut (SC) now available in our bulk, 1-gallon size. Currently the product does not come with a plunger. Purchasing in bulk is over $40 savings from buying 32 oz. bottles.
Features
Removes p1500 sanding marks.
Perfect for use on all types of machines including DA, forced rotation, rotary, and long throw DA machines.
Water based formula provides a superior option when used on all types of foam, wool, and microfiber pads.
Silicone free, and body shop safe
Works with all automotive finishes and gel coat.
Use when removing sanding marks in new paint, and cutting heavy defects and swirls in cured paint.
Oberk uses absolutely no fillers.
Currently, no dispenser or plunger is included.
Instructions
DUO STEP 1: Correction Stage
Suggested pad to use: Oberk Orange Microfiber Cutting Pad.
Always lightly prime the pad to avoid dry buffing. Apply 4 pea sized dots to the face of foam or microfiber cutting pad, wool pads may require additional product. 
Spread product over a 16 x 16"area, and polish. Wipe excess residue, and inspect.
If any holograms or marring is visible, follow up with Step 2 using Oberk Supreme Polish.
Videos
What should do if I see haze or micromarring after using the 2 step system.
Micromarring is common on the initial step. Repolish the area using the same combination to ensure that the polish was cycled and completely broken down, or the surface itself polished long enough. Typically, if you have any issues with the red pad and polish combination finishing, the firmer pad will normally resolve these issues on your specific paint work

What do I use for one step polishing?
We recommend our Yellow medium polishing pad paired with either out OBERK cut or OBERK polish depending on paint.  Typically, we recommend harder paints – Oberk Cut with Yellow pad. Softer Paints – Oberk Polish with Yellow pad.

Note – A simple test spot with each combination above should easily determine which is better for your vehicle.
Customer Reviews
05/10/2021
Anonymous

United States
Amazing Product
I have used many different compounds out there in the market to cut and this one by far is one of the best for heavy/severe defects. Use this with their microfiber pad and follow the instructions on the bottle. It does not get any simpler than that. As you work each panel I would recommend to have a compressor to blow out your pad. This will help you cut quicker and make easy work of any paint. After you do this first step, the second step with supreme polish makes the paint pop. Best system I have used so far. Works great.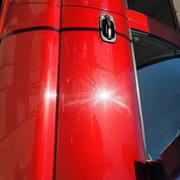 Supreme Cut - yea or nay?
This compound is versatile. It cuts aggressively with a MF or wool pad, and finishes down readily for finish polish. A softer pad allows it to be used as a single-step compound on some paints with good results. Working time is significant and the compound doesn't have a tendency to cook into the paint making it hard to remove. As with any compound, overcycling creates problems, but you need to try hard to do that with this product. Overall, highly recommended.